In order to encourage and promote Japanese language education in Ireland, JLTI and the Embassy of Japan in Ireland jointly host an annual Japanese speech contest.
The 17th Japanese Speech Contest will be held on Saturday, 9 March 2019.
Application forms now available: General Category Secondary School Category
Reference: Judging Criteria
Application Deadline Secondary School Category (TY & LC1 Group): 11 February 2019 Secondary School Category (LC2 Group): 18 February 2019 General Category: 22 February 2019
Please note that each category has a different closing date.
Criteria for Participation
Participants must not be Japanese native speakers and should be resident in Ireland for more than six months at the time of application
(General Category): Participants cannot have lived in Japan for longer than 5 years in total.
(Secondary School Category): Participants must be studying Japanese for the Leaving Certificate in Ireland, and may not have taken more than two weeks total of classes of Japanese in Japan.
Neither participants themselves nor their immediate family members may be members of the JLTI.
Past winners may not enter the same category.
Participants should submit the application form and their speech script to the JLTI Committee by e-mail by the deadline.
Organised by
Japanese Language Teachers of Ireland (JLTI) The Embassy of Japan
Supported by
The Japan Foundation The Japan Business Society in Ireland Department of Education and Science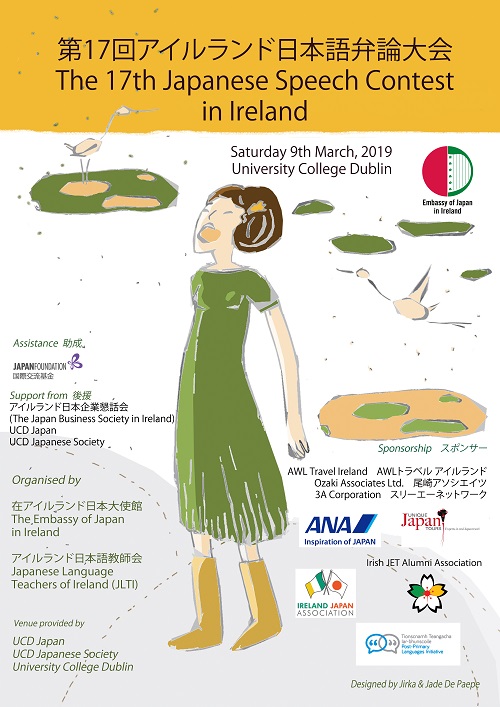 List of the winners available here.
Information on the Speech Contest held in March 2008 is available from here. Information on the 2010 Speech Contest is available here.
Photos from the contest in 2010 can be seen here. Those from 2007, 2008, and 2009 can be seen at our album. (Please look at the menu on the left.)